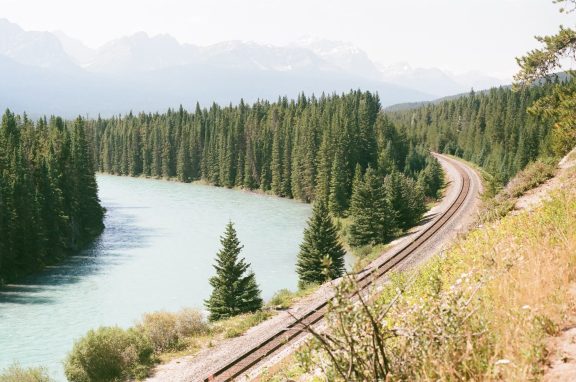 Stretching from Halifax to Vancouver, VIA Rail is Canada's only passenger train network. It's used by commuters and tourists from around the world. Many dream of travelling across Canada by train.
Seeing the rocky beauty of Northern Ontario. Endless fields and big skies in the Prairies. The Rocky Mountains of Alberta and British Columbia. They are all beautiful.
Travel by train in Canada can be expensive, but it can also be done on a budget. Let's look at the routes, and classes available on VIA Rail, as well as how to save money.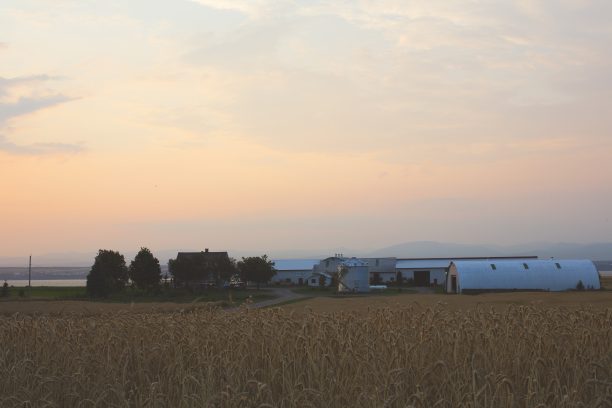 The Ocean line travels from Halifax to Montréal. The full trip is 1,346 km long and takes 1 day/1 night to complete.
Stops on this line include: Halifax, Truro, Moncton, Miramanchi, Matapédia, Rimouski, Rivière-du-Loup, and Ste-Foy (Québec City).
The Québec-Windsor Corridor is VIA Rail's main artery. Commuters In Québec travel to Montreal, and vice versa.
Same with Montréal-Ottawa. It's also a popular route with travellers wishing to see more of Ontario and Québec.
Stops on this line include: Quebec City, Montréal, Ottawa, Toronto, Stratford, and Niagara Falls.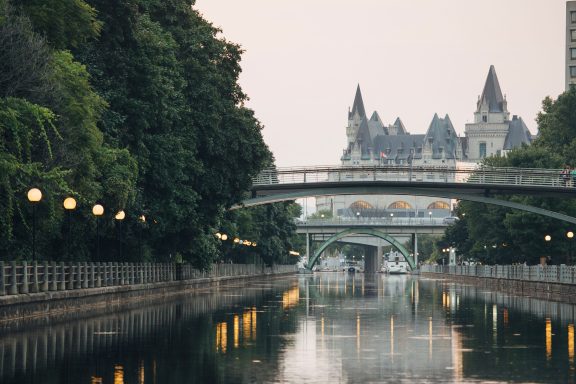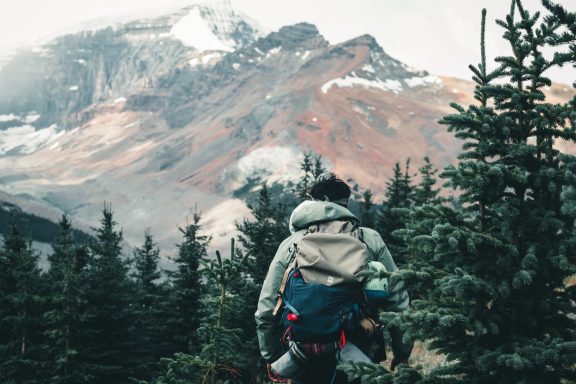 The Canadian line is the route most travellers dream about. It begins in Toronto and ends in Vancouver.
The full trip is 4,466 km long and takes 4 days/4 nights to complete.
Stops include: Toronto, Winnipeg, Saskatoon, Edmonton, Jasper, and Vancouver.
Scenic Routes branch off from the main lines above. Travel from Montréal to Jonquière in Saguenay-Lac-Saint-Jean or Montréal to Seneterre in Abitibi-Témiscamague.
From Winnipeg there is a train to Churchill where belugas migrate in July/August and polar bears can be seen everywhere in winter.
In British Columbia, the train from Jasper to Prince Rupert is drop-dead gorgeous.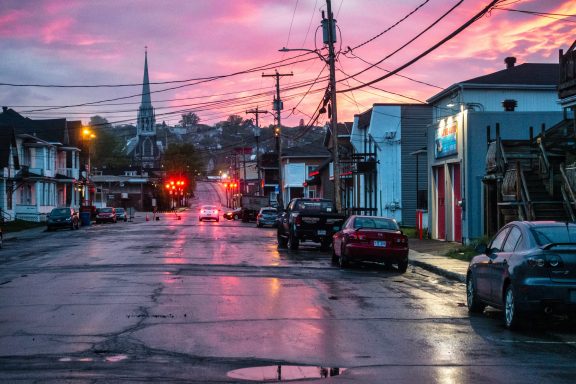 Train Classes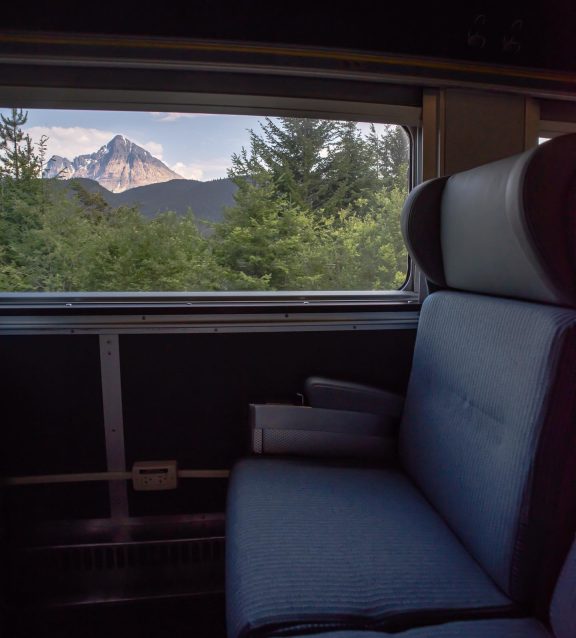 The train cars are comfortable, with seats in pairs on either side of an aisle, which runs down the centre.
There are tray tables, outlets to plug in devices, and wifi is generally available at no charge (the train will have dead zones from time to time). Food and drinks can be purchased.
Tip: Bring food and drinks with you. Especially on the train from Winnipeg to Churchill as they often run out of food during the three day journey.
Business class
The seats here are wider, with space between the seats for added room. Similar to economy class, there are outlets for devices, wifi is free, and each seat has a tray table. Meals are included in this class, and they're quite good. Drinks are free too, non-alcoholic, and alcoholic.
This train class is only available on the Québec-Windsor Corridor route.
Sleeper Plus
The Canadian and Ocean lines have this class. The style of sleepers vary. There are berths, which are set-up at night, and have a curtain for privacy. A cabin for one is small and cozy, with a curtain instead of a door.
During the day the bed is put away and a chair is set-up for watching the scenery go by. A cabin for two is larger with an upper and lower berth. There is space to move around, and sometimes an ensuite bathroom. All of these cabins have doors that lock.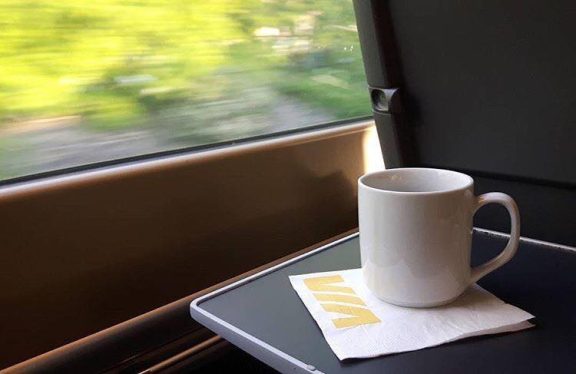 During the day, Sleeper Plus passengers can freely move about the train. They have access to activity cars, the club car (last one on the train) and dome cars which offer panoramic views.
Meals and drinks are included as well. There is a chef onboard, and passengers in this class have their own dining car with white linen service. Meal options include prime rib and lobster ravioli.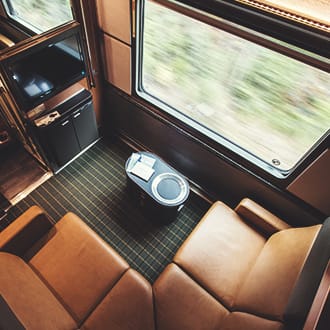 This is the luxury class with VIA Rail. The cabins feel more like hotel rooms, they have a bar, and can go anywhere on the train.
Prestige passengers share the dining car with the rest of sleeper class passengers.
This train class is only available on the Canadian line.
Saving money with VIA Rail
Book on a Tuesday
No matter when you plan to travel, train tickets are always cheaper if you buy them on a Tuesday.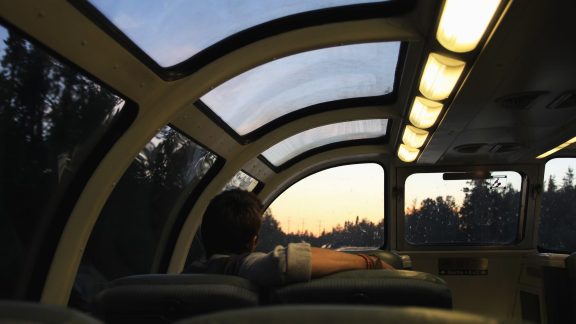 Travel in economy class
The most affordable seats are in economy class. At times there are escape fares available, which are non-refundable, but a good deal.
For example, an escape fare from Toronto to Montréal could be 103 CAD, while a normal economy fare is 127 CAD.
Escape fares can be seen at the time of booking.
It's possible to travel on the Canadian line from Toronto to Vancouver in economy class for 620 CAD.
Just remember that you'll be in your seat for four days and four nights. There are stops along the way, of course, but that seat will be your home.
Free stopovers
Did you know that on the Canadian line you can add a stopover point at no additional charge?
When booking your ticket use the multi-city option to book both legs of your trip.
For example: if you want to travel from Toronto to Jasper with a stopover in Winnipeg, leg one is Toronto to Winnipeg, and leg two is Winnipeg to Jasper.
When adding leg two of your trip make sure the date reflects your desired stopover length.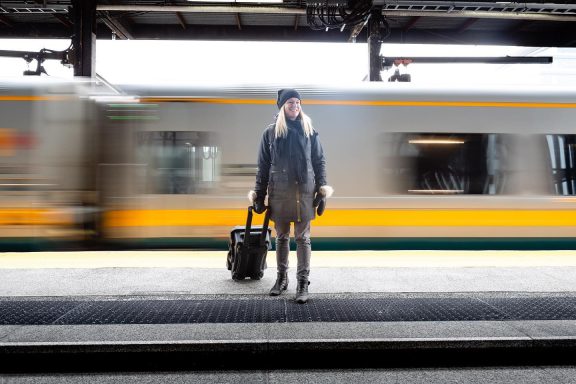 Sleeper Plus Discounts
Travelling across Canada by train can be expensive, but there are ways to save money.
If your dates are flexible, check out the sleeper plus class discounts on VIA Rail's website (It's not easy to find). Some of the deals are very good.
A trip from Toronto to Jasper in an Upper Berth can be 790 CAD instead of the regular price of 1580 CAD.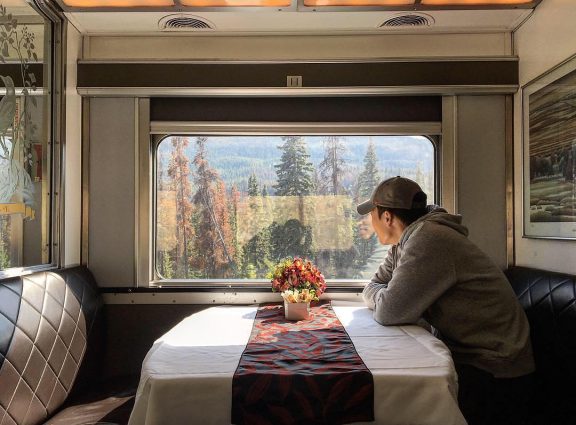 Bring your own snacks and drinks
When travelling in economy class food and drinks are available for purchase. It's a lot cheaper to bring your own. Plus, if the train runs out of food (it happens on some sections, like the train to Churchill), you're all set.
VIA Préférance
This is VIA Rail's rewards program. It's free to sign up, and with every dollar you spend, you earn 1 reward point. If you're planning to travel a lot by train this is a good way to earn free train tickets.
Travelling with VIA Rail is a lovely way to experience the landscapes of Canada.
The gentle rocking of the train can lull one to sleep quickly, and the stops along the way give a peek into local culture.
It is one of the best ways to experience Canada.