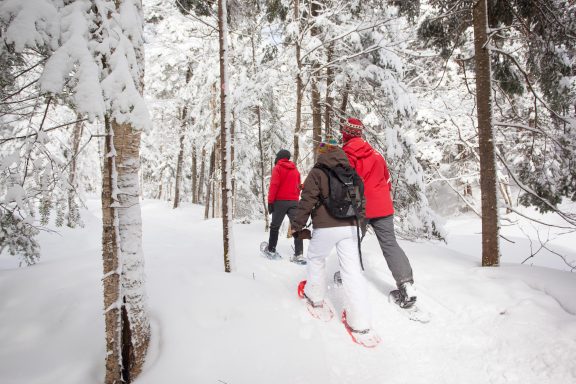 If you're looking for winter activities in Québec that don't cost a fortune, we've drawn up a list of the best outings under $30. Make the most of the cold, blue-sky days by escaping your comfort zone, for the best way to tame the Québec winter is to get active out in nature!
Here are 8 of the most affordable, most exhilarating experiences for winter backpackers:
---
Explore an ice canyon near Québec City
Make like a northern explorer and set off to discover a real canyon of ice in Pont-Rouge. To see the immense walls of ice and gigantic icicles in the gorges of the Jacques-Cartier River on foot, you just follow the Promenade Jacques-Cartier as it criss-crosses the riverbanks for 4.6 kilometres.
When you first get close to the river, you'll be blown away by the spectacular view and the sound of the water flowing through ice. Be careful as you pass through "Les Galets" on your way to the falls. At the other end, you'll see the McDougall dam and power plant and a smattering of other little frozen falls. Cross the Chemin du Roy bridge to check out the opposite side of the river.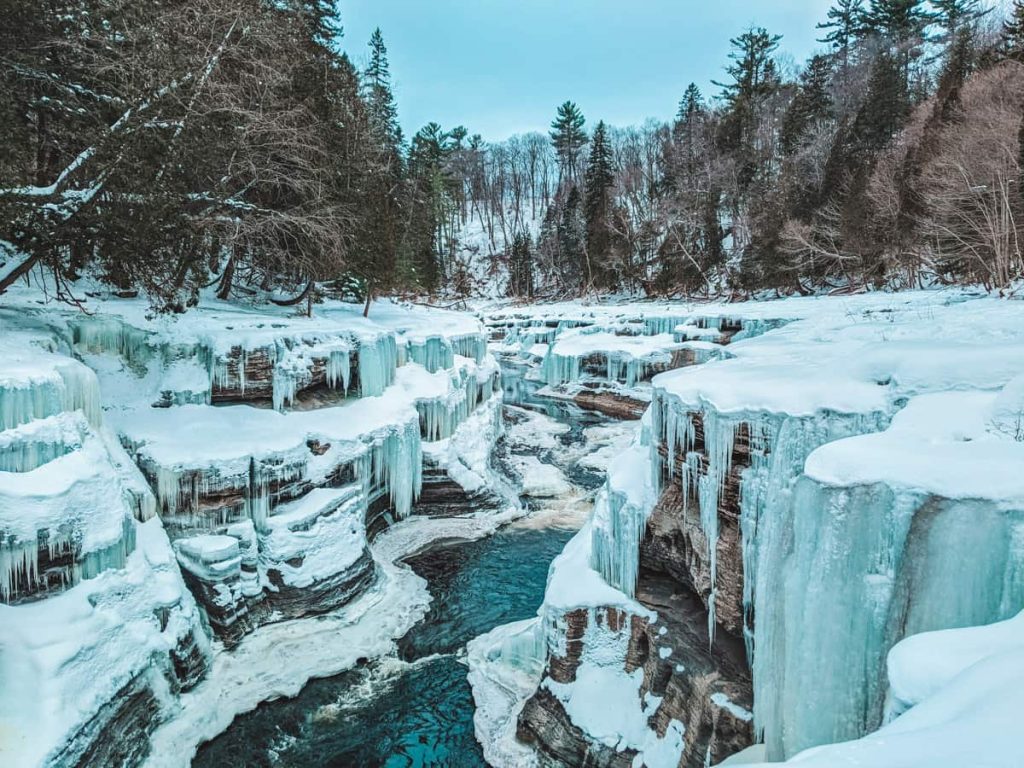 Mountain

 

snowshoe

 the Sentier des caps de Charlevoix
Whether you want to be zen or hardcore hike, mountain snowshoeing is a winter experience to remember. When you hit the Saint-Tite-des-Caps network of trails, you can choose a trip that meets your need for low or high intensity.
The trails' distances vary between four to 12.8 kilometres, and the landscapes are also quite varied. You can choose between intense descents and ascents, a lakeside promenade or a climb of the observation tower. Most of the trails lead to lookouts with a view of the water and the Îles de Montmagny.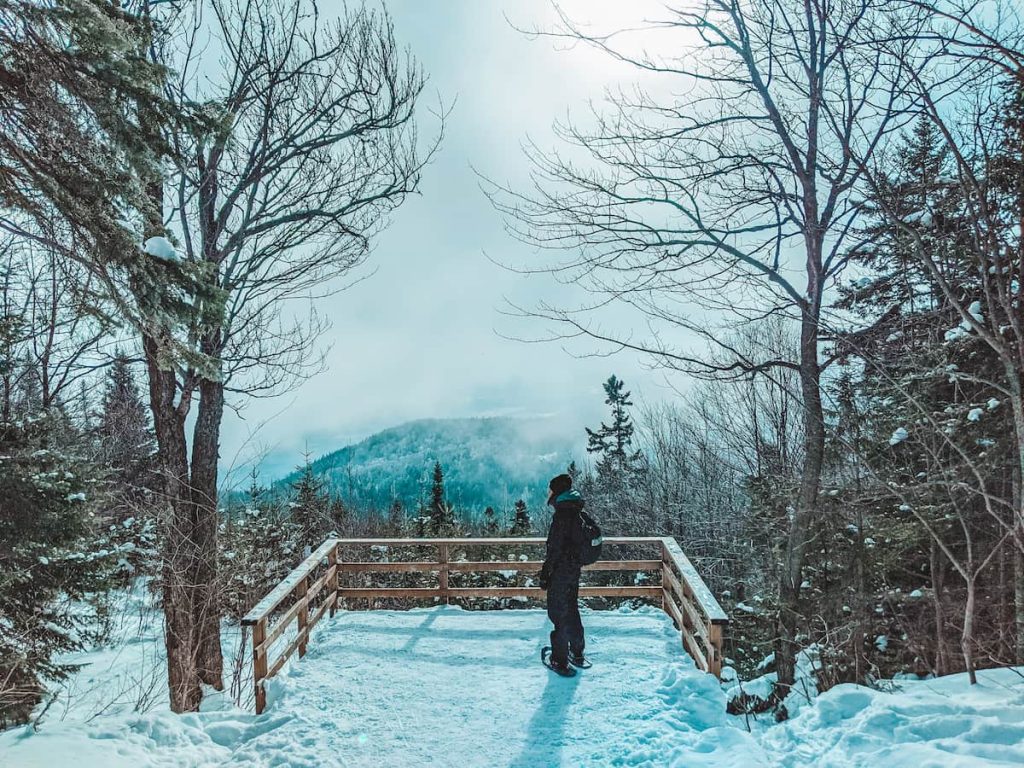 Discover a cross-country skiers' paradise near Montréal
Just outside Montréal, you'll find Gai Luron's 27 kilometres of cross-country ski trails. At this winter paradise for cross-country ski aficionados and rookies alike, fresh trails are cut every morning.
You'll build your cardio as you move through the magnificent cedar forest that will transport you far from the hustle and bustle of the big city.
Where:

Centre de ski de fond Gai Luron

 at 2155 montée Sainte-Thérèse, Saint-Jérôme, Québec J5L 0L5

When: Monday to Friday, 8:30 am to 4:30 pm. Saturday and Sunday from 8:00 am to 4:30 pm
How much: $23 on weekdays (taxes included), $25 on weekend days (taxes included), complete cross-country ski equipment rental: $25
Recommended youth hostel:

 

Saintlo Montréal Youth Hostel

How to get there: 45 minutes by car from the 

Saintlo Montréal Youth Hostel

 (option of renting a car with Communauto carsharing)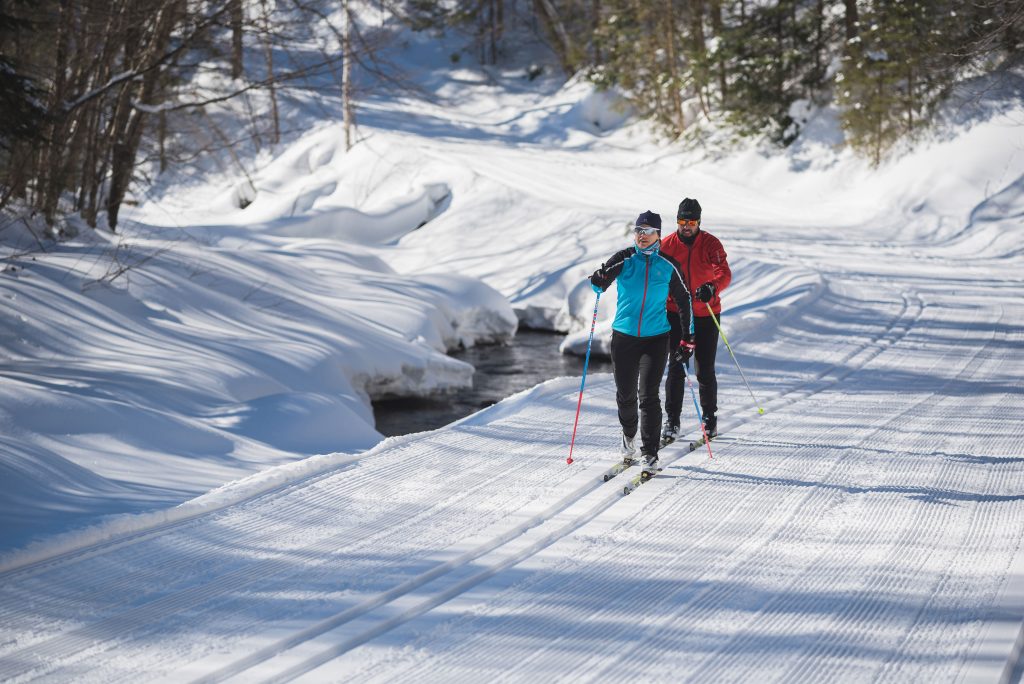 Skate through the forest near Montréal
Some 45 minutes from Montréal, you'll find Bois de Belle-Rivière. This skating trail offers a 2.5-kilometre tour through maple groves and crisp, fresh air. 
You don't need to be an expert skater to enjoy it, but it's not recommended if it's your first time on skates, as there are plenty of slopes. It is however the perfect place for experienced skaters!
When: From Thursday to Sunday, 9:00 am to 4:45 pm (and some nights when it's lit up)
How much: $8 per person; no equipment rental on-site or skate sharpening service is offered
Recommended youth hostel:

 

Saintlo Montréal Youth Hostel

How to get there: 45 minutes by car from the 

Saintlo Montréal Youth Hostel

 (option of renting a car with Communauto carsharing)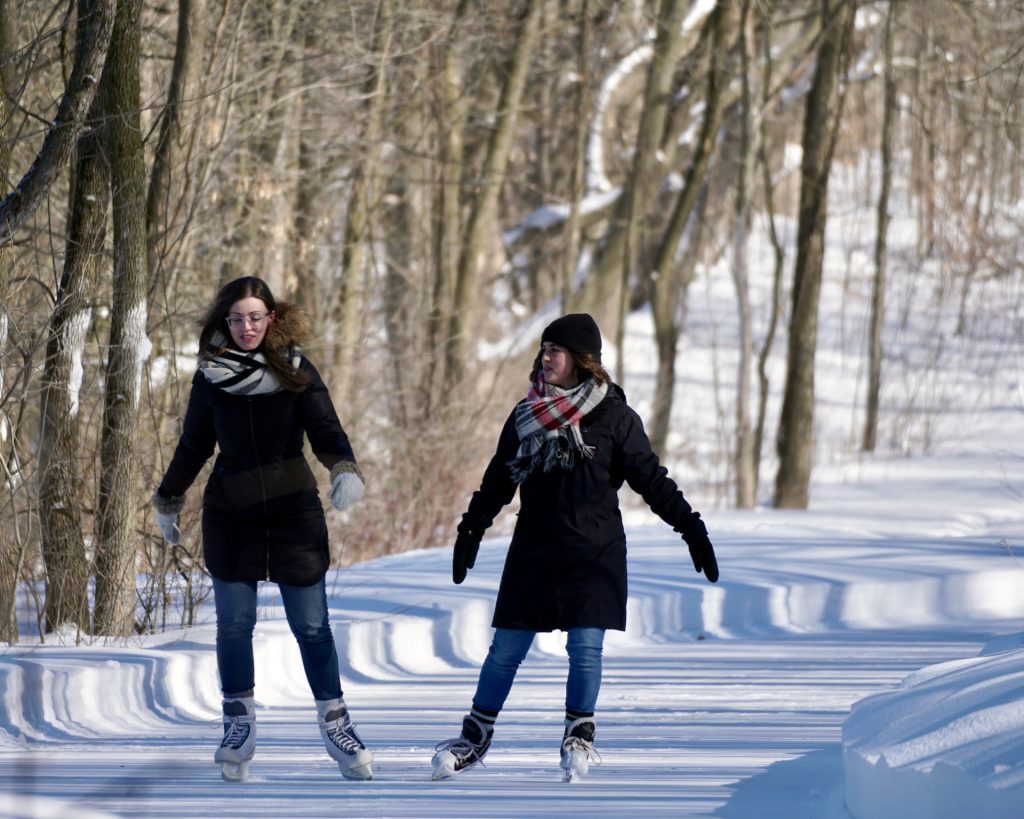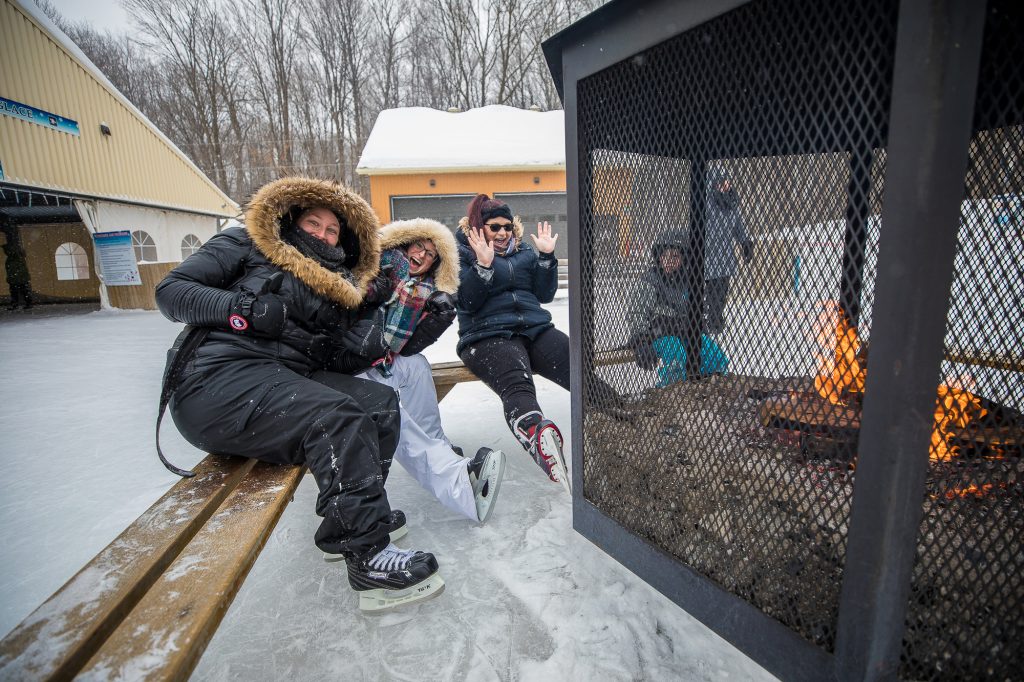 Relax in the La Malbaie spa with indoor waterfall
A well-rounded winter experience must also include treating yourself to the heat! At La Malbaie, you'll find a one-of-a-kind spa experience that's actually affordable. Spa O'Quartz is an oasis of relaxation in the middle of winter! 
This indoor spa integrated in the natural cliff of Pointe-au-Pic has a 22-foot waterfall of pristine water that flows over quartz from an underground spring. With its panoramic view of the Saint Lawrence River, this "relaxation centre" is a microclimate located in the Hôtel Le Petit Manoir of the Charlevoix Casino. To enjoy it with either a day or half-day pass, you need to bring your beach sandals and bathing suit.
Where: 

Spa O'Quartz

 at 525, Chemin des Falaises, La Malbaie, Québec G5A 2V5

When: 10:00 am to 8:00 pm from Sunday to Thursday; 10:00 am to 10:00 pm Friday and Saturday
How much: $20 taxes included/half-day for those not staying in the hotel
Recommended youth hostel:

 

La Malbaie Hostel

How to get there: 45 minutes by foot from the 

La Malbaie Hostel

 or 8 minutes by car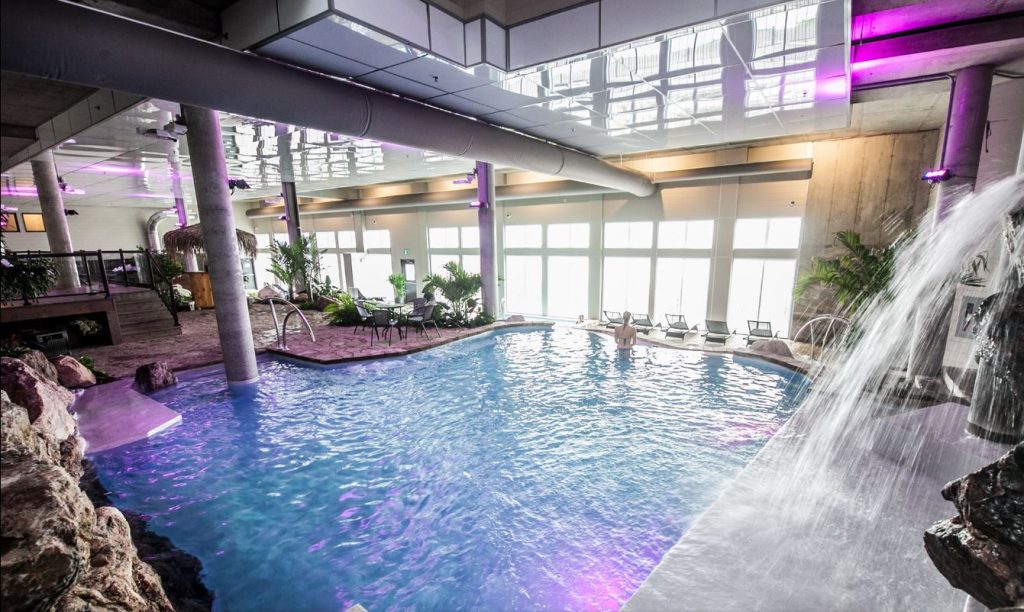 Go 

fatbiking

 in the Hautes-Gorges-de-la-Rivière-Malbaie national park
If you really want to get out of your comfort zone this winter, try fatbiking. The wide tires on these unique bikes have the ideal traction for snowy surfaces. For a genuine fatbiking experience, you'll want to try the 11.6 kilometres of groomed trails at the Hautes-Gorges-de-la-Rivière-Malbaie national park. You can rent the bike and gear there.
Tip for backpackers: Get yourself an annual Parcs nationaux du Québec card to have unlimited access to all the province's national parks for 12 months.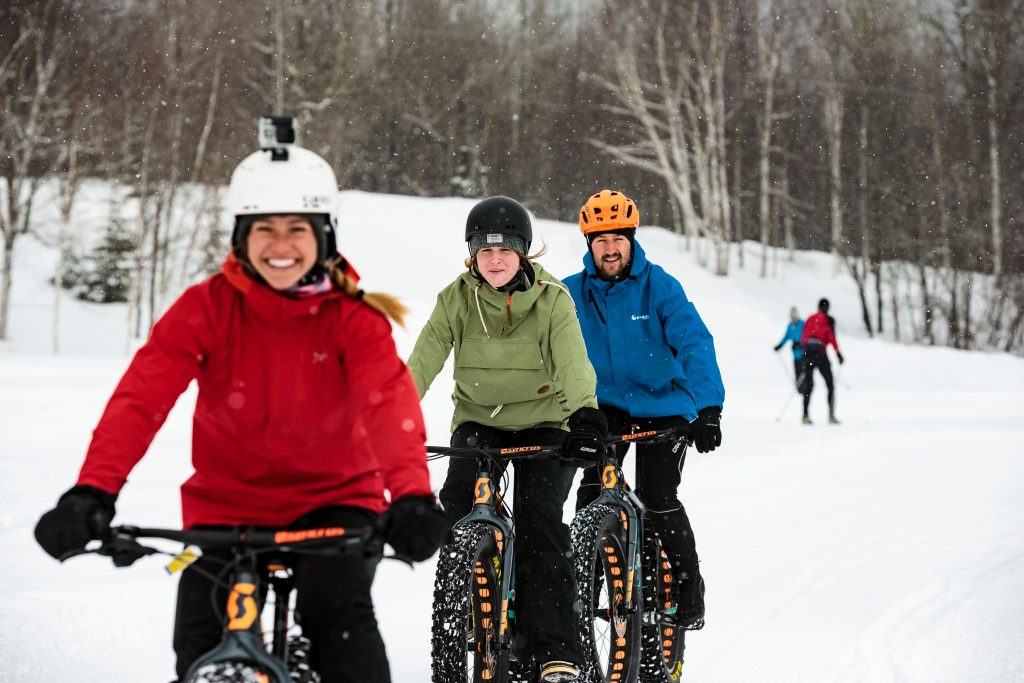 Choose your winter sport in the Parc national du Bic
You can practice the full range of winter activities in the fairy tale landscapes of Le Bic in the estuary of the Saint Lawrence River. If you like snowshoeing, you'll love the 35 kilometres of trails. Nordic skiers can enjoy over 20 kilometres of trails, including 12 kilometres of classic cross-country ski trails (mechanically groomed on a regular basis).
If you must choose just one thing to do in this park in the winter, climb the Pic Champlain on snowshoes! Once at the summit, the unbroken view of the wild beauty of the bay of Le Bic and its maritime landscape will take your breath away.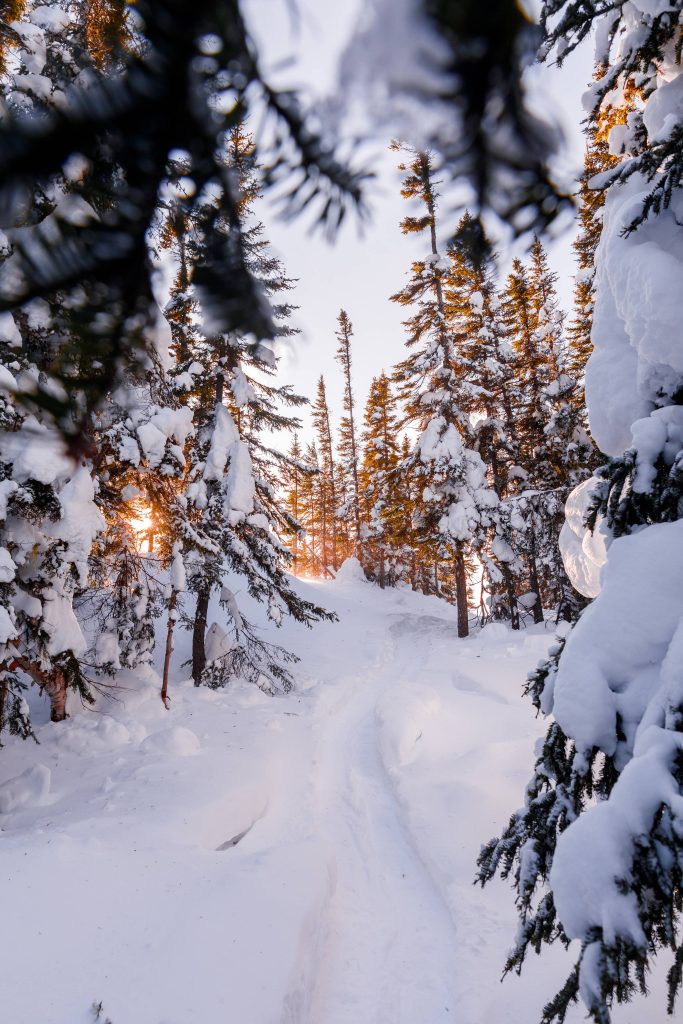 Cross the Lac-

Témiscouata

 ice bridge
If you yen for a totally unique winter experience, then get yourself to the Bas-Saint-Laurent. During the winter, the Témiscouata Lake ferry is replaced by the famous ice bridge linking the town of Témiscouata-sur-le-Lac to Saint-Juste-du-Lac. You can cross it by foot or on snowshoes, just like the locals do. It's truly a typical experience of the region.
In the Cabano area, you'll also find a pedestrian route that lets you cross the lake to the other shore so that you can take the trail to the Fourneau Mountain lookout in the Lac-Témiscouata national park. Once in the park, there's plenty of wild trails to choose from.
When: Ice bridge season depends on the thickness of the ice, normally between January and March; the national park is open year-round
How much: Access to ice bridge is free; to explore the trails of the Lac-Témiscouata national park, day access is $9.25
Recommended youth hostel: 

Rivière-du-Loup International Hostel

How to get there: 90 minutes by car from the 

Rivière-du-Loup International Hostel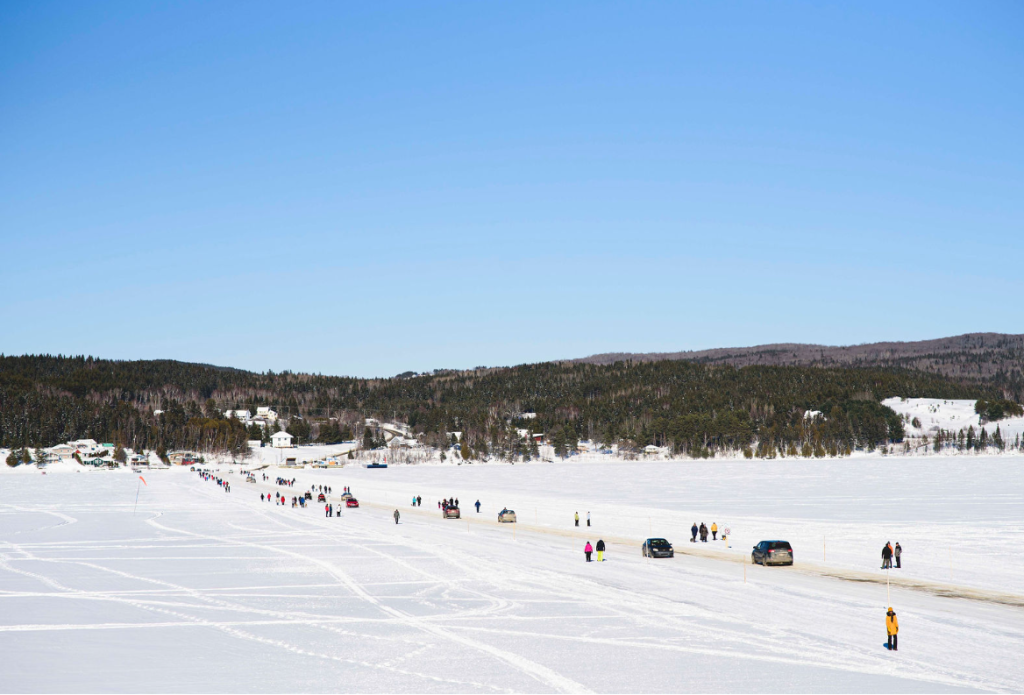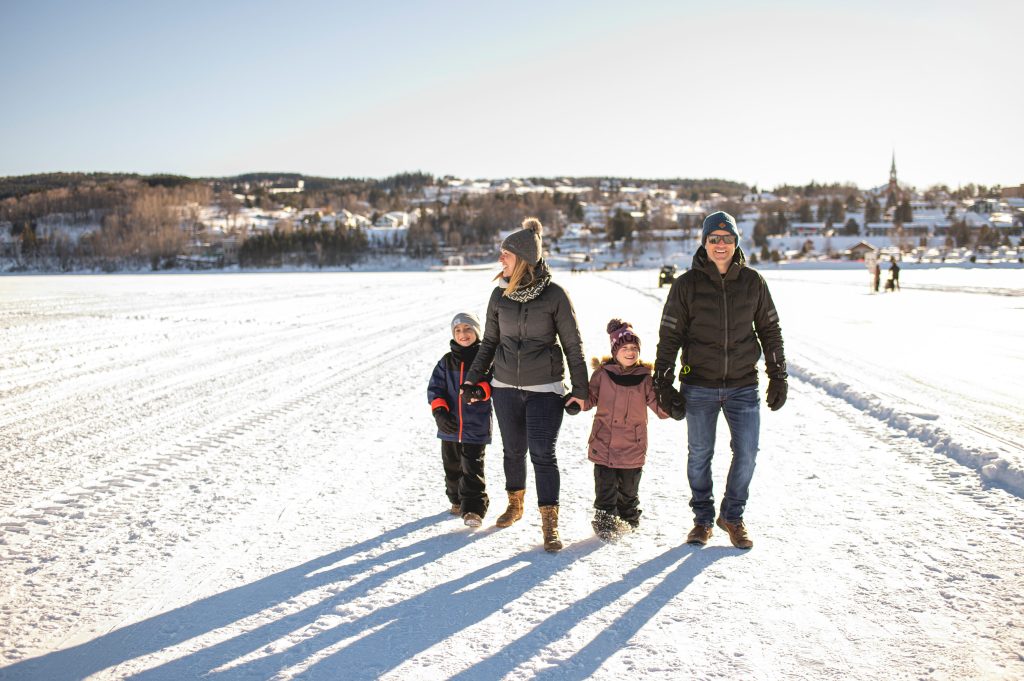 These are just a few of the amazing winter activities you can do in Québec for under $30. Our "belle province" has so much to offer in terms of winter activities, even on a limited budget. From snowshoeing in the national parks to crossing the water on an ice bridge, there's something for every level of intensity.
Plan your winter backpacking stay and jump into snowbound landscapes!