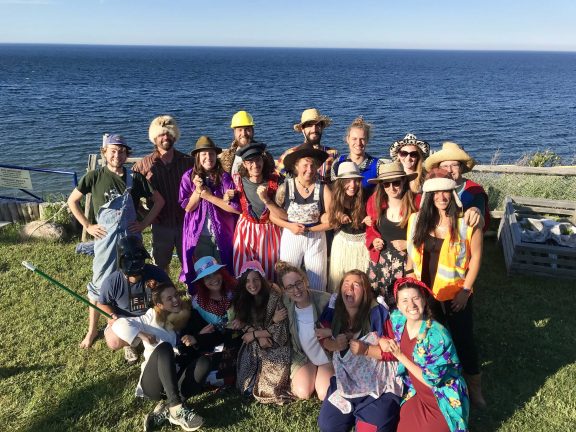 The best thing about travelling solo is you're free to do what you want, whenever you want! But it may be intimidating to hit the road alone, especially for the first time. If you're afraid of getting lonely while travelling solo, there's no need to worry: we've got six tips guaranteed to help you make the acquaintance of fellow travellers and locals alike.
Here are 6 tried-and-true tips to help you make friends when travelling solo.
---
1. Stay at a youth hostel 🛌
Youth hostels are ideal for solo travellers. With their communal spaces, they're designed from the ground up to encourage spontaneous encounters and conversations. (People often think of hostels as dormitories stacked with bunk beds, but rest assured, you can also book private rooms.)
To optimize your opportunities to make friends and acquaintances (and keep to a budget), you should choose to bunk down in a dormitory. Often, all it takes is a simple hello to your fellow travellers when you're choosing your bed to get on your way to finding your "best dorm buddy".
If you're a little shy though, here's a little tip to help you break the ice: make it a morning goal to join other travellers around the breakfast table. Because breakfast is often free, like at the Saintlo Montréal and the Saintlo Ottawa Jail hostels, everybody's in a positive and open mood!
Morning is the ideal time to trade ideas for outings, share travel tips and perhaps even find a travel buddy.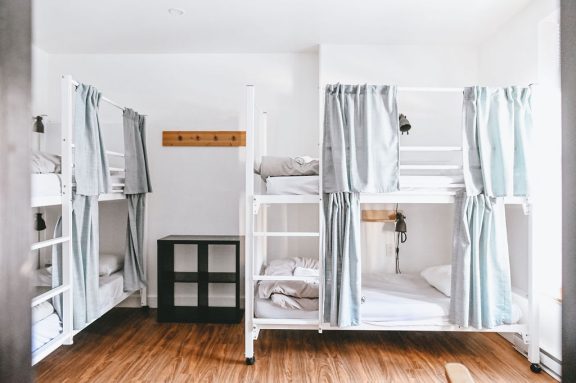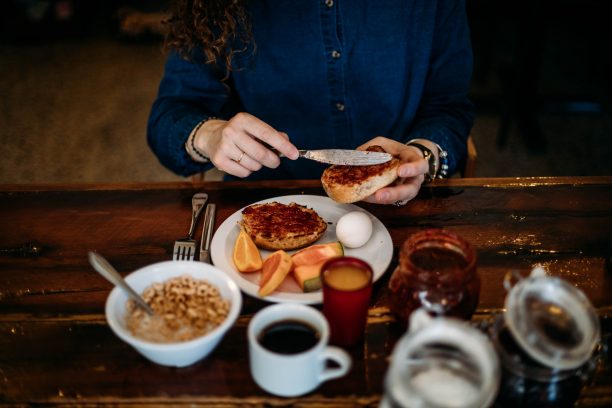 2. Take part in a group activity or sign up for a guided tour 🚲
Most big cities offer guided walking tours (and they're quite often free!) that school you in their history, culture and best-kept secrets. Plus, they give you the opportunity to mingle with new people while sharing the same experience.
Whether you're interested in food, architecture or street art, keep an eye on your hostel's bulletin board to find out what guided tours are offered when. The Saintlo Montréal youth hostel, for example, regularly offers guided group tours to introduce hostellers to the city.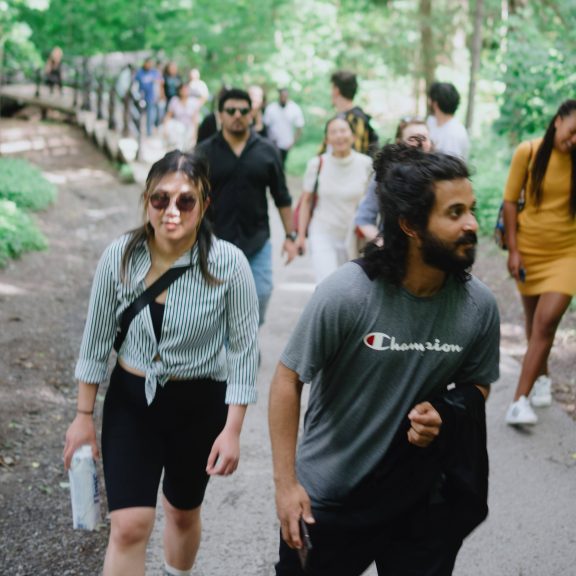 3. Get on a friending app 🔍
Unless you've been living off the grid in the middle of nowhere, you're surely aware of dating applications like Tinder. Did you know that there are also friend-finding apps like Bumble BFF, Meetup and Hey! VINA?
How do they work? As easy as one-two-three. These apps are designed to be uncomplicated. Just download the app and make your profile, explaining who you are and what you're looking for. Then it's game on!
Don't worry, most everybody on friend-finding apps is there for the same reason you are: to make friends. Perhaps you'll meet a local who has the inside track on the city's best spots. Or make the acquaintance of another foodie who shares your passion for discovering hip, affordable restaurants.
4. Join travel groups on social networks 📱
Who says social networks are only to keep in touch with friends, share cat photos and stalk your old high school gang? You can also meet groups of travellers and chat.
Let's say you're looking for travel companions to explore beautiful Gaspésie this summer. You just have to search your social media for a group that's doing something similar. If you're planning a boat tour in search of seals and marine animals at Griffon Aventure Hostel, then post that you're looking for people who are interested in doing the same. You'll most likely receive enthusiastic responses from the get-go.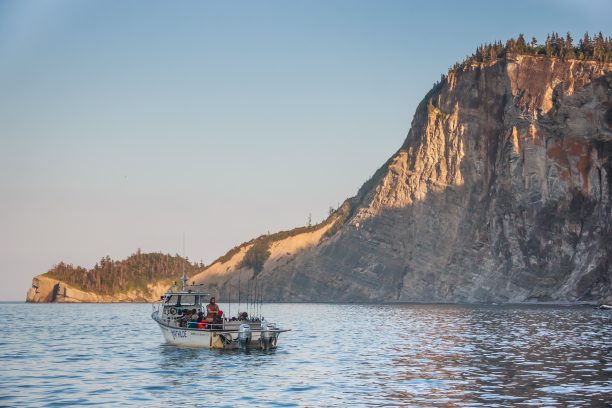 You can also use social networks as a tool to ask for travel tips and recommendations from people who've already visited the places you plan to hit.
5. Visit local cafés and bars 🍻
To strike up friendly relationships in more relaxed environments, get yourself to a café or local bar. If you're the type of person who likes to break the ice, then you've got the ticket to the best way to make new acquaintances: friendly, face-to-face chit chat.
If you're uncomfortable going out alone, however, then join up with a group. Hostel staff always dream up social activities like bar crawls. And they're easy to talk to. It's their passion to help their guests find opportunities to mingle.
If you fall on the super-social side of the spectrum, then the Sea Shack hostel awaits you! It's the ultimate party hostel, where dancing until the sun comes up is pretty much par for the course. At the Sea Shack, you can make new acquaintances twenty-four hours a day.
If going out into the night isn't your thing: no worries! Some hostels bring it to you. The Auberge La Malbaie, for example, has their own resto-pub with local beers and a menu of local dishes. You can meet people while enjoying a fine craft beer without even having to leave the hostel. It's almost too easy to mingle!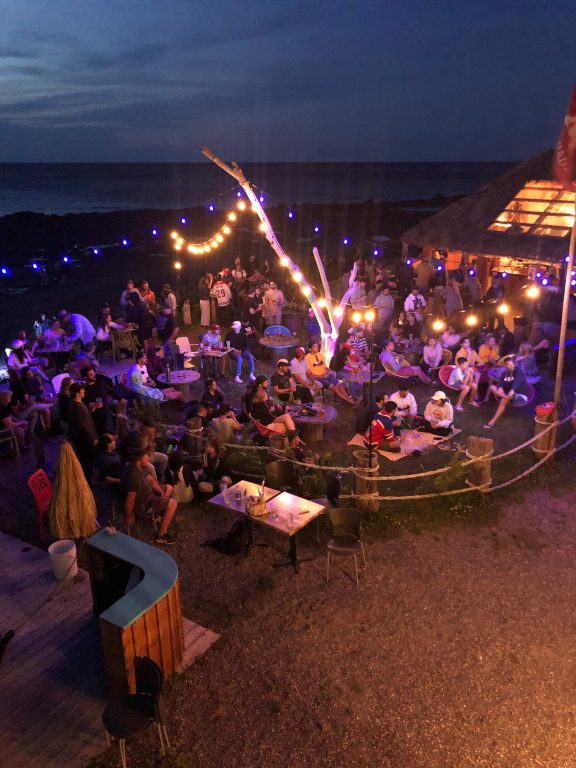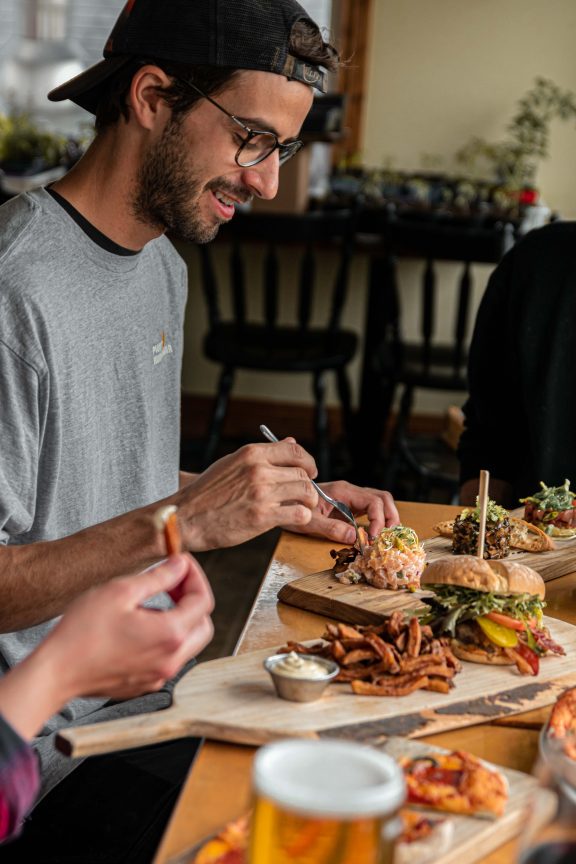 6. Sign up for a class 🧘‍♀️
Though it may feel intimidating to register for a class when you know nobody in town, it's likely what the rest of the class feels too. Normally, everybody who signs up shares a common interest, so the chances of finding people you click with are high.
Seek out schools in the city that you're visiting. For example, it's pretty easy to find cooking or language courses. If you stay over at the Saintlo Ottawa Jail, check out the Ottawa Art Gallery. It offers plenty of free studio workshops, such as Sketchy Thursdays on the last Thursday of every month, where they'll teach you observational sketching techniques. If you're more of an athletic type, many yoga and cross-fit studios offer drop-in classes. Getting a dose of endorphins is a pretty good way to get ready to mingle.
Keep an open mind and be ready to slip out of your comfort zone 😎
When traveling solo, it's easy to sink into shyness and fear of the unknown. Be curious, chat with the people you run into, and don't hesitate to offer to do activities with fellow travellers. Finally, always keep in mind that a friendly smile goes a long way!
Bon voyage!