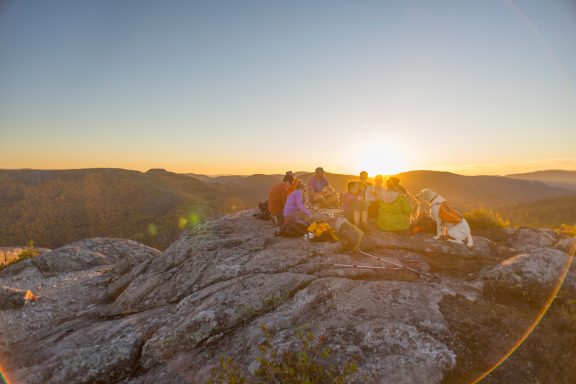 Whether you're a nature lover or a thrill-seeker, or if you're just looking to get out of the city for a few days, a road trip to Charlevoix is the getaway you need!
Locals know that when autumn comes to Charlevoix, it's transformed into a magical place. The leaves change colour, the air is fresh and edifying, and the summer tourism season gives way to nature in all its autumn glory.  
Here are a few ideas to help you plan the ultimate fall road trip to Charlevoix.
---
How to get to Charlevoix?
This picturesque Québec region is located around two hours from Québec City and four hours from Montréal. To get to Charlevoix, take Highway 138 to Baie-Saint-Paul, then branch off onto the St. Lawrence Route, the most gorgeous, most panoramic drive in North America. You'll be blown away by the beauty of the Saint Lawrence River along this 78-kilometre road trip that takes you to Les Éboulements and Saint-Irenée.
Another drive to keep in mind for a different yet equally spectacular road adventure is the Mountain Road through the Laurentians foothills. The impressive cliffs and wild vegetation will get your adventuresome heart beating on this glorious drive that crosses through the Grands-Jardins national park and the Hautes-Gorges-de-la-Rivière-Malbaie national park.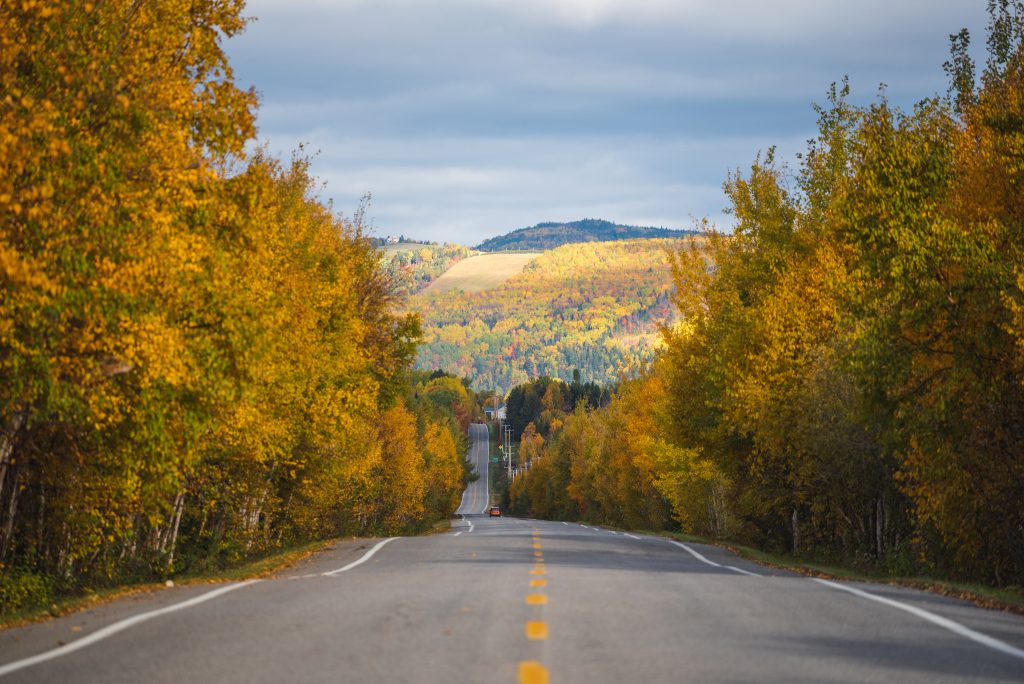 Where to stay in Charlevoix?
There are plenty of options for lodging in Charlevoix, but our favourite is the La Malbaie youth hostel. This cozy little hostel is located right in the middle of the city, close to the best restaurants and shops.
You can cook up all the cozy ambience you need at the hostel's shared kitchen or spoil yourself with local products and craft beers at its restaurant and pub. You can even slip on a comfy sweater and chow down among the fall colours on the hostel patio.
As the hostel is next to the water, you'll wake up every morning with an unbroken view of the Saint Lawrence River. In addition to its cozy rooms and incredibly friendly, helpful staff, you also get a free breakfast! Even on a tight budget, you'll have everything covered for a complete stay-over at the Auberge de Jeunesse La Malbaie.
What to do in Charlevoix?
Nature lovers will want to hike the Hautes-Gorges-de-la-Rivière-Malbaie national park, explore the Grands-Jardins national park or scale Le Massif, each option a hearty, multi-coloured excursion.
The Hautes-Gorges-de-la-Rivière-Malbaie park is famous for its breathtaking landscapes, particularly its vertiginous cliffs, epic waterfalls and of course its awesome views of the fall foliage. Bolder hikers will want to challenge themselves on the very popular Acropole des Draveurs hike, a round trip trek that takes around 5 hours (around 10 km) and reveals the region's most stunning panoramas.
What's more, if you're seeking further adrenaline-fuelled fall thrills, try the via ferrata in Grands-Jardins national park. What's a via ferrata, you ask? It's an aerial circuit that you follow along cables, footbridges and catwalks that gives you a thrilling guided tour. You'll find via ferratas in some of Québec's most breathtaking, out-of-the-way landscapes.
On the other hand, if you're looking for a place to chill and get some sun (no kidding, even in fall), follow the Anse de Sable trail through the Baie-des-Rochers to arrive at Charlevoix's hidden beach.
Finally, the Fraser Falls at La Malbaie are one of the most popular hiking destinations in the Charlevoix area. The trail is relatively easy and level, offering the perfect mellow autumn nature stroll. Whether you're looking to chill or searching for thrills (or a combination of the two!), you'll find what you desire in Charlevoix this fall.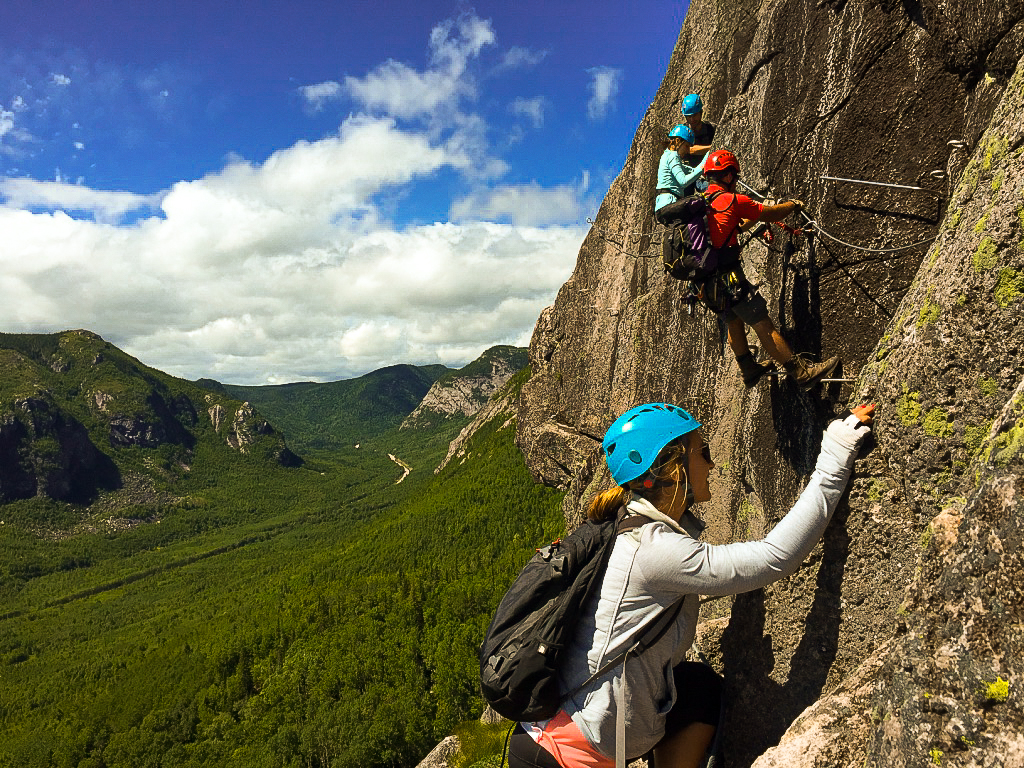 Where to eat in Charlevoix?
Charlevoix is reputed for its regional flavours and locally made beverages. With seafood freshly caught in the Saint Lawrence River, award-winning cheeses and artisanal breads to choose from, there's something to suit every taste. And of course, no trip in Charlevoix would be complete without giving the delicious craft beers a go! Several microbreweries call the area home, and each has carved out its own flavourful niche. From IPAs to stouts, you'll find what you crave.  
During your road trip, take the time for a stopover at Baie-Saint-Paul. This charming little town, located a hop and a skip from Charlevoix, is celebrated for it cultural and artistic scene. Enjoy a stroll through town to discover its galleries and shops that sell local products.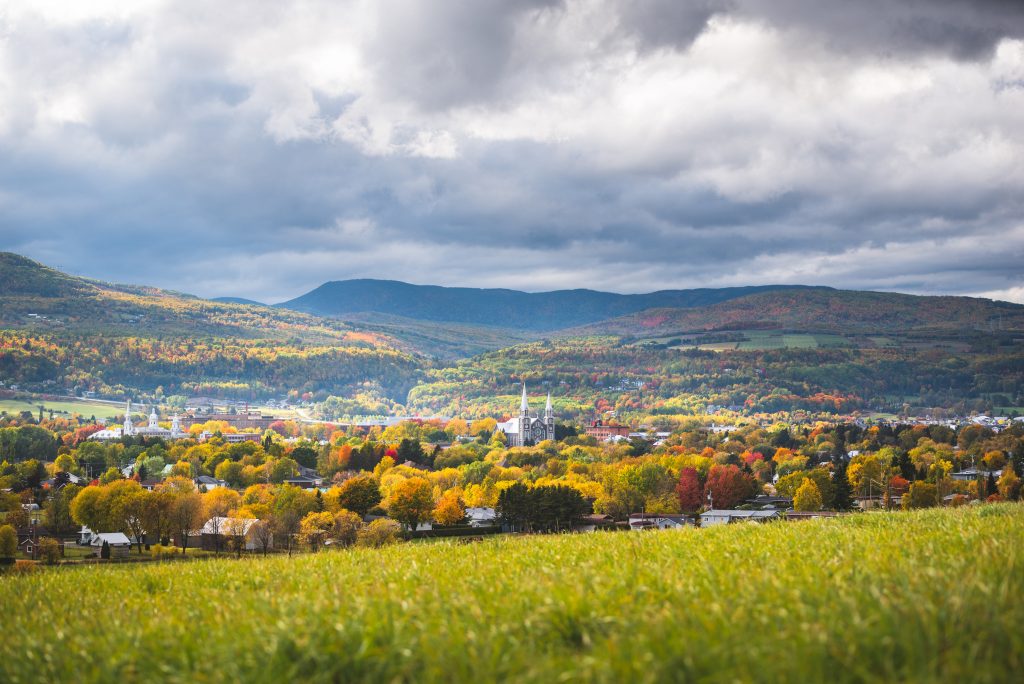 Take a mini-getaway to L'Isle-aux-Coudres
A road trip in Charlevoix wouldn't be complete without a stopover at L'Isle-aux-Coudres, an idyllic island in the Saint Lawrence River. Hop the ferry from Baie-Saint-Paul to see its historic mills built in the 19th century, farm-restaurants, heritage churches and magnificent hiking trails. 
If you'd like to pick it up a notch, L'Isle-aux-Coudres is the ideal destination for an autumn bike ride. Renting a bicycle is easy at one of the shops in Baie-Saint-Paul. Just ride it onto the ferry and pedal off into island charm. 
Make sure to stop at the Boulangerie Bouchard for a bite, followed by the Cidrerie Vergers Pedneault for a mouth-watering cider and a stroll through the orchards: autumn is for apple-picking!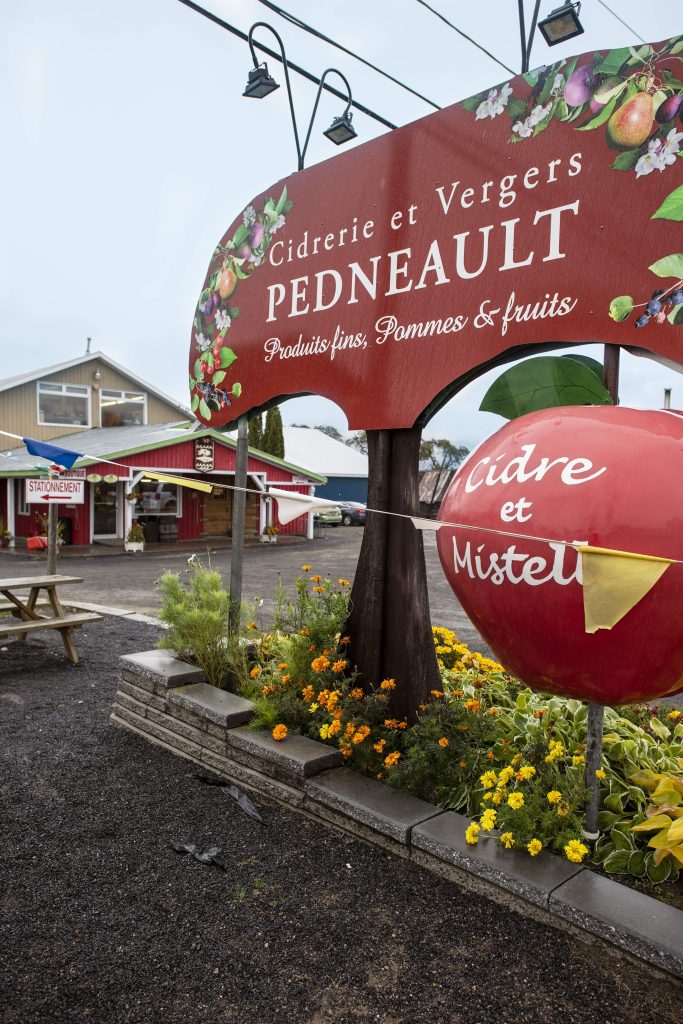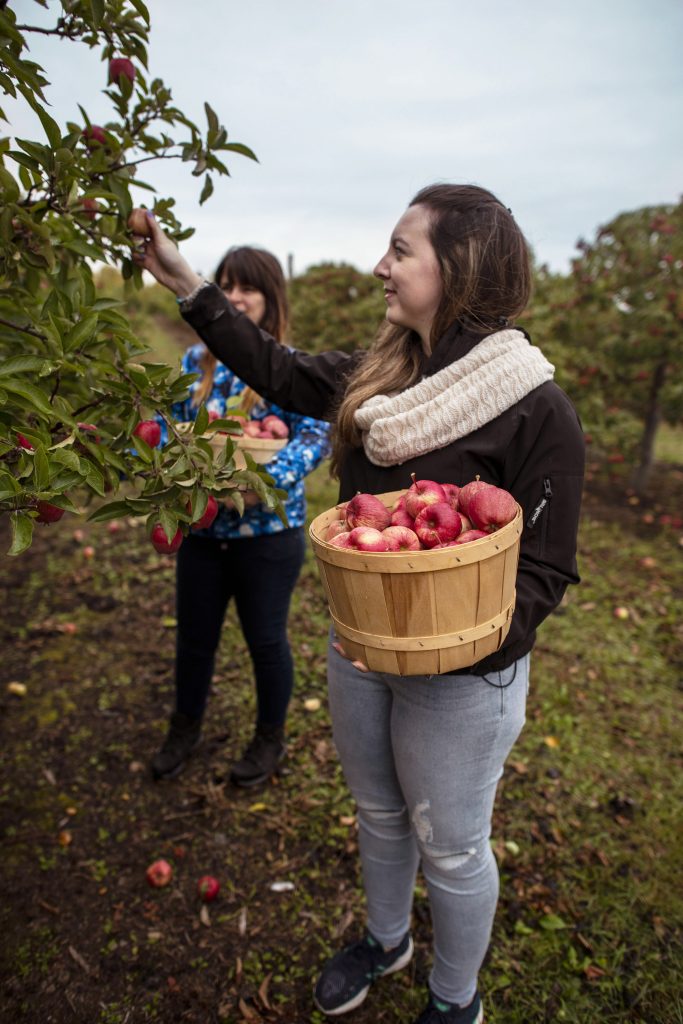 Go ahead! Prepare your road trip to Charlevoix!
The fall is the ideal time for a road trip to Charlevoix to take in its breathtaking landscapes and outdoor activities amid the glorious seasonal colours. Book your stay ahead of time to ensure you get your place at the Auberge La Malbaie!