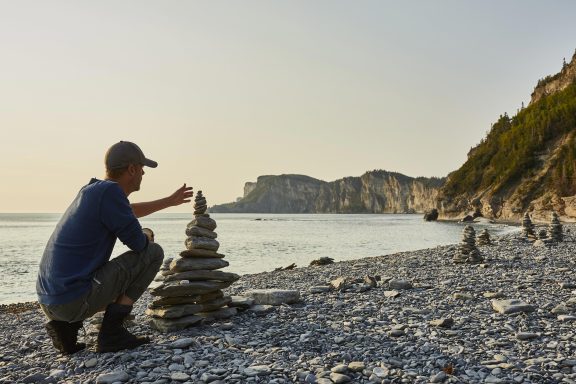 Looking to top up your backpack with assorted awesome adventures and discoveries? Québec is a destination of choice for backpackers on a quest for unforgettable experiences! With its spectacular landscapes, its heart-racing outdoor activities and its warm and welcoming youth hostels, La Belle Province is a backpackers' paradise.
---
Here are 7 incredible adventures to experience Québec from a different angle — and check off your summer bucket list:
1. Go canyoning at Sainte-Anne-des-Monts!
Need a shot of adrenalin? Canyoning is a thrilling mix of mountaineering and water sports, and Eskamer Aventure offers a variety of treks. With one of their experienced guides, you can ascend to the top of a cliff while safely harnessed or descend a 30-metre waterfall like a character from a James Bond flick. See why this new sport is becoming one of the favourite activities of backpackers travelling Canada!
Where to stay in Sainte-Anne-des-Monts
When you're in Sainte-Anne-des-Monts, you must spend the night — a late night — at the festive Sea Shack youth hostel! With a Tiki bar and live bands, there's always a party going on. It's the kind of place where you watch both the sunset and the sunrise. The hostel is located on one of Québec's most beautiful beaches, and if you're lucky, you'll see whales out in the water. Not only does the Sea Shack offer hostel rooms and dorms, you can also book colourful, themed chalets and beautiful camping sites.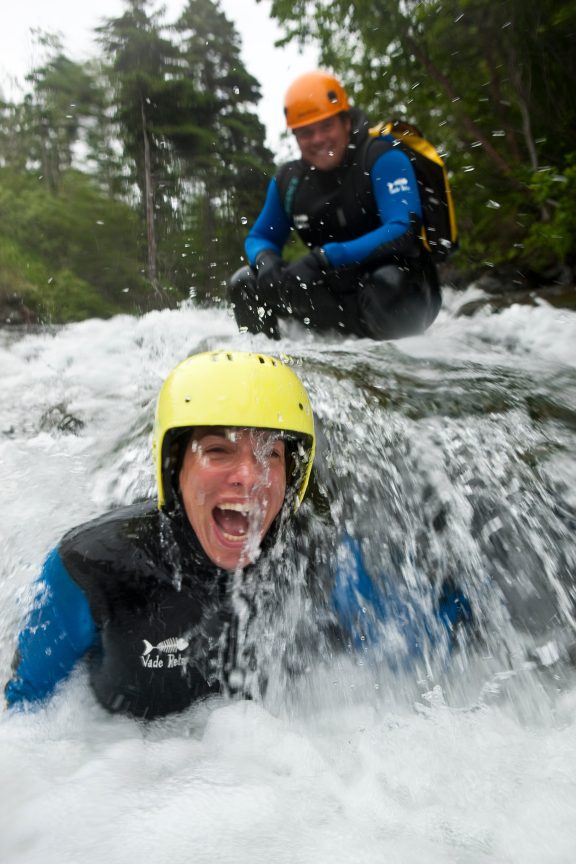 2. Enjoy a beach day at Québec City's Beauport Bay!
When you're getting your dose of history in the streets of Old Québec City and the sun comes out in full force, do what the locals do and hightail it to the beach. Just five minutes from downtown, Beauport Bay is the local summer hot spot. Bring your beach towel and bathing suit and get your toes in the sand at this spacious beach with a nice view of île d'Orléans. You can also enjoy beach yoga, live concerts, movie nights under the stars, and plenty of other entertaining activities.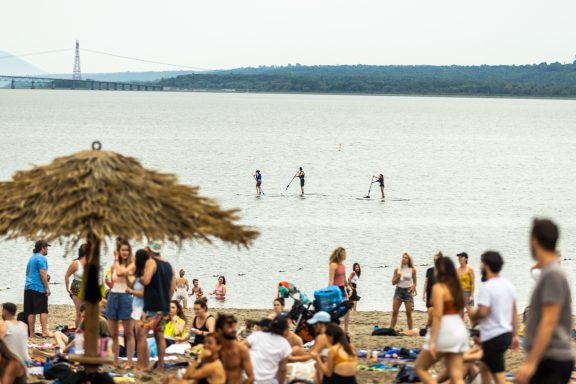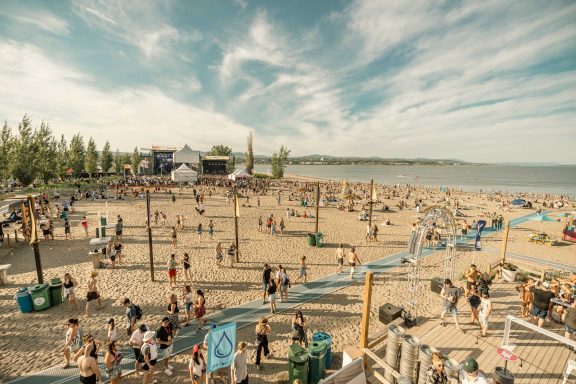 3. Dig into a poutine combo at Montréal's Orange Julep!
Twenty minutes from downtown by metro (at Namur station on the orange line), head to the giant orange overlooking the Décarie Expressway. Gibeau Orange Julep has been a retro fast-food landmark for over 80 years! Chowing down on a legendary poutine is on everybody's Québec bucket list, but it's even better when you're also slurping on a creamy orange julep. It tastes like time-travelling back to a bygone era.
Where to stay in Montréal
For backpackers passing through Montréal, the Saintlo Montréal hostel is an excellent basecamp, as it's smack-dab in downtown, two minutes from the Lucien L'Allier metro station. With the choice of a private room or a dorm bed, you can either treat yourself or be nice to your budget. Free breakfast is included with your stay, plus plenty of organized activities, like bar crawls and $2 Hot Dog Thursdays. It's easy to meet up with fellow travellers at the hostel bar and set out on a typical Montréal night that could lead anywhere!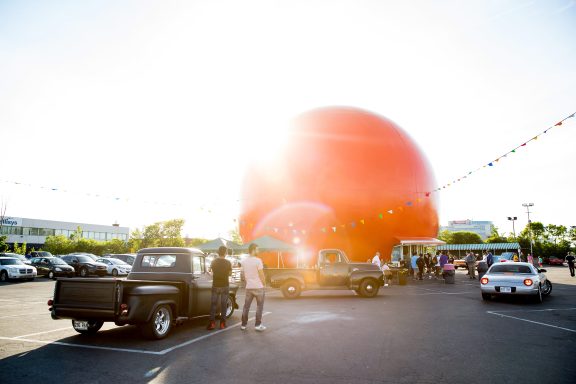 4. See the End of the World in Gaspésie!
Forillon National Park is 244 square kilometres of awesome nature at the outer tip of the Gaspé Peninsula. To end a good day of hiking, top it off with a visit to Cap-Bon-Ami, where you'll get a cliff-side view on the seals, whales and seabirds. At the summit of the hiking trail, the lookout gives you a 360-degree view of the edge of the world.
Where to stay near Forillon National Park
To explore Gaspésie and the national park, the Griffon Adventure Hostel is an excellent starting point and a bucket list item all its own. Sure, you can stay in a dorm or on the campsite, or you can crash in a themed chalet, a wood cabin and even a gold prospector tent. What they all have in common is they're nestled in the natural landscape. As you watch seabirds come in and out with the tides between the sea and the cliffs, you'll disconnect from the rest of the world. What's more, the on-site bar place is a great place to mingle.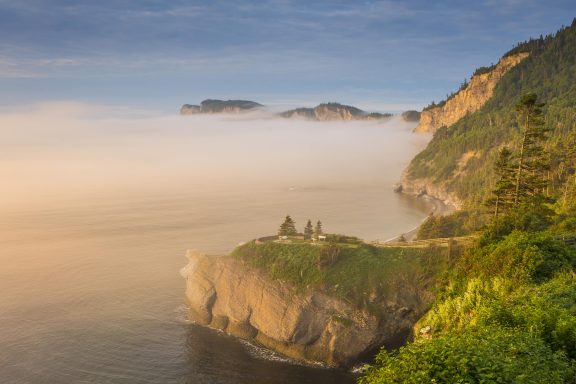 5. Discover the secret beach in Charlevoix!
If you're in the mood for a serene, paradisical beach, head to Charlevoix and take the Anse de Sable trail to Baie-des-Rochers. Sixteen kilometres from Saint-Siméon, to get there, just take Highway 138 and turn right on Rue du Chapelle and continue to the dock.
When you're on the main path that goes up the mountain, you'll soon hear the lapping waves surround you. Descend a little and discover the hidden beach that's all there for you. With a bit of luck, you'll see seals, belugas and rorquals! The return trip by foot is just two kilometres, so the beach is easily accessible for anybody.
Where to stay in Charlevoix
Backpackers looking to stay the night in the Charlevoix region adore the La Malbaie hostel in the centre of town. You can wake every morning at this gorgeous haven on the water's edge to a magnificent view of the Saint Lawrence River. There are rooms or dorm beds to meet your budget, plus you get access to a communal kitchen. If you want to treat yourself, try the exquisite local products and craft beers at the resto-pub. They go down even better on the outdoor patio!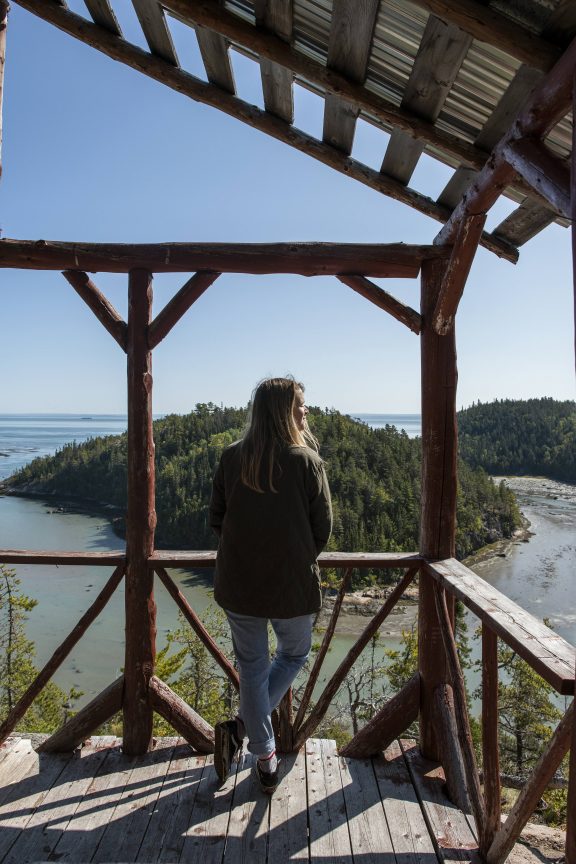 6. Give into Kamouraska charm!
To discover a region that's rich in culture and history and check whale-sighting off your bucket list, take a detour through Kamouraska. This coastal village is an ideal destination to take in the seascape, discover the region's artists and seriously chill in the village. Kamouraska is truly a little corner of paradise for backpackers seeking down time on the mighty river.
Where to stay near Kamouraska
Some 30 minutes from Kamouraska, you can slip off your backpack at the Rivière-du-Loup International Hostel! This historic building transformed into a hostel offers a warm, family ambience. The shared kitchen has all the cooking gear you need to make it easy on the wallet and easy to meet other travellers.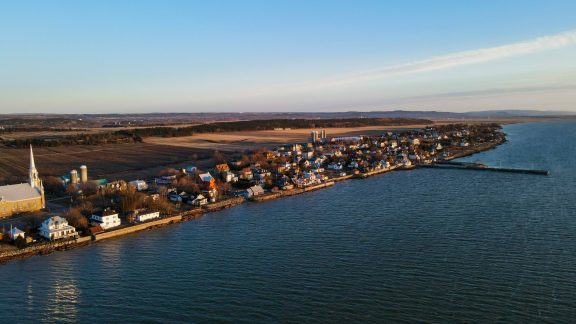 7. Admire the turquoise waters at Emerald River Park
Your summer bucket list for Québec isn't complete without a visit to this amazing natural site fifteen minutes from Percé Rock: the Rivière Émeraude – or Emerald River in English – municipal park. The site is open all year round from 9 to 5 at $10 per person at the reception booth.
There are outhouses and picnic tables on site, but don't forget your hiking boots to fully take advantage of the nature trail along the Rivière of the Portage. Though you can't bathe in the emerald pool, you can get some tanning in — and get some mind-blowing photos to make your friends jealous.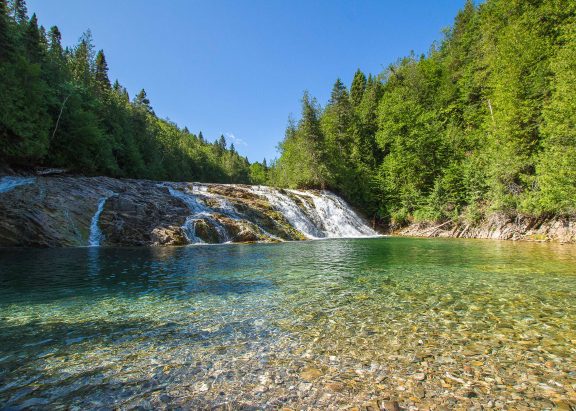 Where to stay near the Rivière Émeraude
One hour and fifteen minutes from the Rivière Émeraude, you can stay at the Griffon Adventure Hostel where you can disappear into nature with an incredible view of the Saint Lawrence. For a typical, local experience, get your fresh lobster at the Rivière-au-Renard seafood shop and cook it up yourself in the hostel kitchen.
You probably never imagined Québec had these thrilling and chill experiences! So, are you ready to take on the La Belle Province summer bucket list?